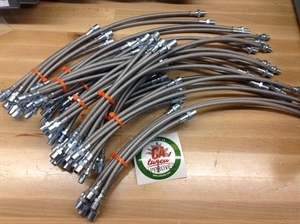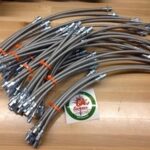 CAtuned Stainless Steel Braided Brake Lines (E9/E10/E12/early E24)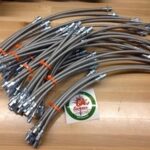 CAtuned Stainless Steel Braided Brake Lines (E9/E10/E12/early E24)
Are your brake lines 20+ Years old?
Soft pedal?
Worried about your brake lines?
This is the answer for you. This is a kit for BMW E9/E10/E12 and early E24.
This is a complete kit: Front & Rear
Placement on Vehicle: Left, Right, Front, Rear
A large percentage of your brake pedal travel is due to expansion of the hydraulic hoses under pressure. Replacing the rubber flex hoses with our stainless steel reinforced Teflon hoses eliminates this expansion, giving you a firm positive feel of your cars braking system. This set of lines is fully covered with PVC thus give it extra protection, no other brand on the market give you this extra protection.
Technical features:
fully compliant with DOT Standards (MVSS-1006)
lines burst-tested to 6000psi
(maximum tested pressure from a BMW braking system is 1200psi)
Teflon inner line covered with a woven layer of stainless steel and covered in an abrasion-resistant material (translucent black plastic covering).
Plastic end pieces protect assembly, no exposed steel fibers to injure fingers.
Installer responsible for correct fitting and bleeding procedure as recommended by BMW.
As brake line installation is a safety-related item, installer assumes all responsibilities and risks associated with brake line replacement.
Professional installation recommended.
---
Only logged in customers who have purchased this product may leave a review.