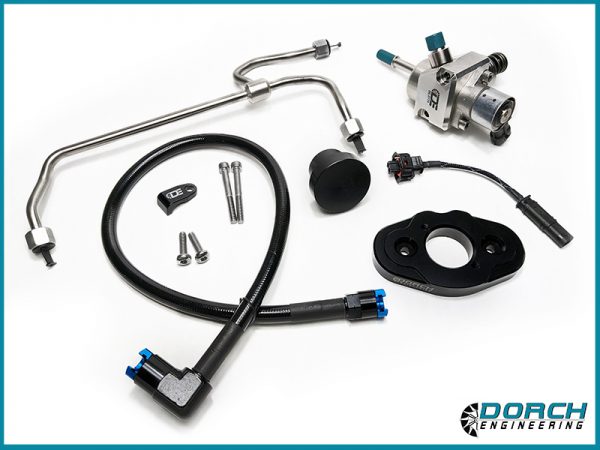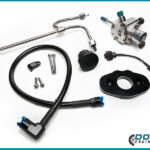 Dorch Engineering B58 Stage 2 HPFP Upgrade (F2X M140i/M240i, F3X 340i/440i)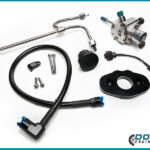 Dorch Engineering B58 Stage 2 HPFP Upgrade (F2X M140i/M240i, F3X 340i/440i)
£1,745.00
£1,745.00
Months of R&D resulted in Dorch Engineering producing the original, and the best, B58 HPFP upgrade.
Their Stage 2 kit is a bigger, better version of the Stage 1 kit for some of the more extreme applications. This is a complete plug-and-play kit to support up to 700whp and also allow for full E85 up to 550whp (these numbers can vary quite a bit depending on tuning strategy, fuel type, etc.). There's no cutting, no bending, no crimping, etc. This kit drops right in with full control from the DME, just like the OEM pump. All of the safety and sophistication of the stock DME remain in place.
The table below serves as a reference for maximum fuel flow in cubic centimetres per camshaft revolution for various B58 fuel pump options. These calculations are based on the B58 cam lobe. Each engine will have varying fuel flow capacities depending on the lift and number of lobes on the camshaft.
Software changes are required to run this pump – this is made as easy as a few clicks if using Bootmod3. Otherwise, please send your .BIN file to tuning@dorchengineering.com for the appropriate software changes. This change is free of charge.
Kit Contents:
HPFP with hardware
High Pressure Line
Quick-Connect Low Pressure Line
Low Pressure Line Bracket
Plug-n-Play Adapter Harness
Kit Fitment:
F2X M140i/M240i
F3X 340i/440i
Kit not compatible with B58TU engines. Installation instructions here.
---
Only logged in customers who have purchased this product may leave a review.