Workshop
The Hack Engineering Workshop is always a busy hub for all things BMW.
From big end bearing replacements to head gasket jobs, our qualified and experienced staff have the expertise to carry out any task to the highest standards.
Our workshop is staffed by specialist technicians and engineers in the worlds of both performance enhancements and high-demand OE maintenance schedules. The Hack Engineering Workshop is also responsible for some of the UK's finest and fastest BMW builds. With BMW and BMW MINI dealership level diagnostics software and tooling, along with years of expertise in all areas of vehicle maintenance and upgrades, we really can cover all bases.
Our current labour rate is £88+VAT per hour. If you'd like pricing and availability for our workshop, please email us on info@hackengineering.co.uk including your name, contact details, address, vehicle registration and the nature of the work required, and our team will get back to you.
Servicing, Maintenance and Repairs

Including iDrive and online service history updates, Genuine BMW parts & fluids supplied/fitted, brakes/suspension/exhaust repairs & maintenance, as well as detailed specialist servicing such as BMW Inspection I/II

Diagnostics

Autel and BMW dealer level diagnostics via ISTA & INPA

Battery Testing

Autel battery testing for 6 and 12 volt batteries, 100-2000 CCA. Capabilites to test Flooded, AGM, AGM Spiral, EFB and GEL batteries

Specialist Repairs

VANOS rebuilds/upgrades, Crank Hub upgrades, big end bearing replacements, turbo replacements and more

Performance

Hybrid turbos, mapping services/tuning packages, fuel system upgrades, suspension upgrades, braking upgrades, performance exhausts, track preparation, electronics, intake systems and more – many performance parts supplied and fitted

Air Conditioning

Thanks to investment in the very latest Texa Bi-Gas machinery, we can offer precision A/C servicing for R134A and R1234YF systems, covering vehicles new and old. Available for all makes and models

BMW/MINI Warranty-Approved

Due to using Genuine BMW Parts and servicing methods, as well as BMW/MINI online service history updates and iDrive updates, our services will not disrupt or void your BMW/MINI Warranty.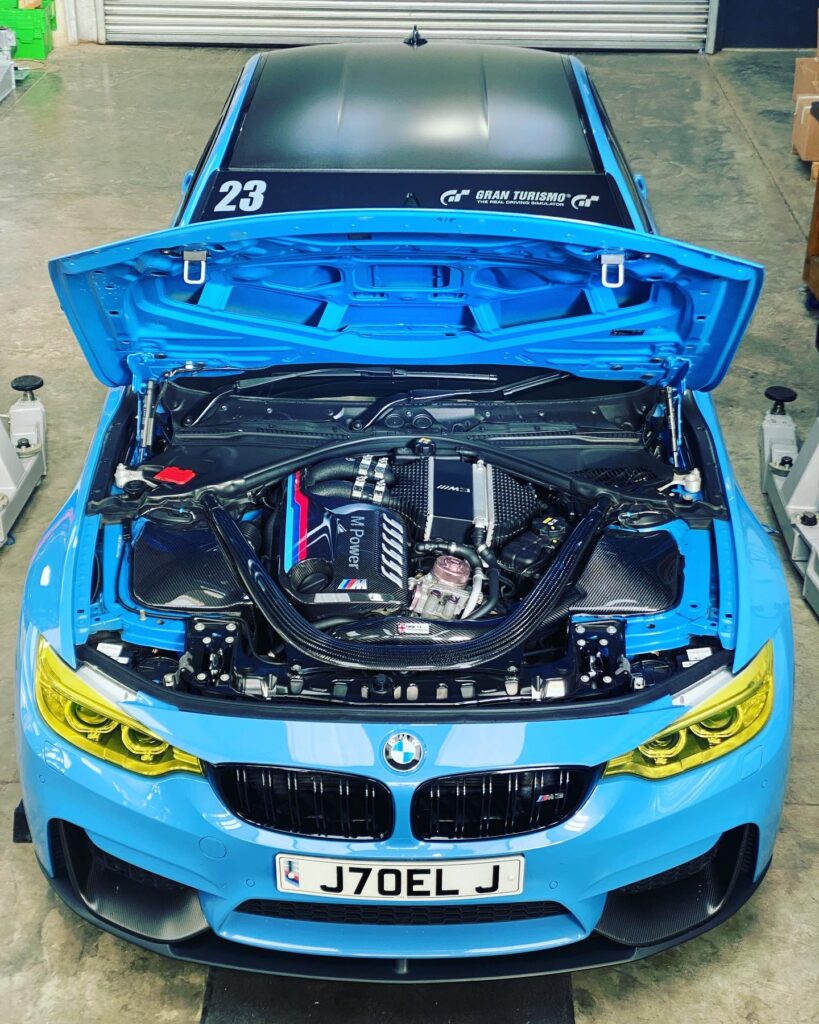 Machine Shop
Precision machine services for a wide range of applications
With an array of milling, turning, grinding and other specialist tooling, we are able to carry out many aspects of machining and manufacturing. 
Services
Broken stud/bolt extractions
Ultrasonic parts cleaning
Full cylinder head overhauls

Brake caliper thread repairs (coming soon)
---
Tuning
Hack Engineering is fuelled by industry experts in almost every area of vehicle optimisation and tuning. Therefore, we are always ready for vehicle power upgrades, handling solutions and more.
Hack Engineering has been responsible for some of the UK's most powerful BMWs – but not only this, we have been behind some of the most complete and refined tuning solutions for road and track.
We have delivered complete vehicle solutions for 1100+bhp F8X models, and can offer the same precision when it comes to straightforward remaps and everything in-between.
Hardware upgrades from air filters to turbochargers are covered, with ECU mapping always applied and verified by our engineers in-house. We can ensure that a complete package is always supplied and fitted with the utmost attention to detail.