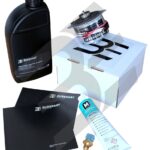 Burkhart Engineering SMG2 Hydraulic Pump Repair Kit (E46 M3)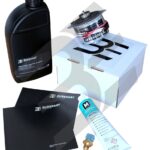 Burkhart Engineering SMG2 Hydraulic Pump Repair Kit (E46 M3)
£499.00
£499.00
Burkhart Engineering, based in southern Germany, is a BMW specialist renowned worldwide for its expertise with the E46 M3 SMG2 transmission system. Through countless repairs and a refreshing approach to the problems the SMG system can present, Burkhart has since developed a range of rebuild kits and upgrades to make SMG ownership a worry-free experience.
The Burkhart Engineering SMG Hydraulic Pump Repair Kit can not only repair your pump, but also improves it to be ready for high temperature track use, traffic jams and hot summer weather.
SMG pump problems often trigger the following fault codes:
53 (0x35) low level of pressure reached HE
55 (0x37) switching-on frequency of hydraulic unit
56 (0x38) switching-on time of hydraulic unit
57 (0x39) misuse of hydraulic unit
In most cases this is caused by a worn electric motor, which drives the hydraulic pump in the SMG unit. Further the gap leakage in the hydraulic system increase massively during high temperatures. If additionally many hydraulic consumers are working (clutch slave cylinder and gearbox actuator), the hydraulic unit no longer produces enough pressure – for this issue Burkhart Engineering High Performance Hydraulic Fluid offers a huge improvement.  The pump runs on pressure up to 25% faster than using the conventional Pentosin CHF 11s.
The pump motor may be responsible for following faults:
Illuminated SMG warning light on dashboard
Malfunction Indicator Lamp (MIL)/engine check lights up
SMG dropping out of gear
SMG unit no longer shifting or engaging gears
Kit contents:
Brand new replacement motor for SMG 2
Brand new temperature sensor for SMG 2
High Performance Grease (Molykote BR-2 Plus, 100g)
The old motor can be replaced by the new one as a plug and play swap. The replacement motor is equipped with the required pins and seals and can be directly installed with the original wiring loom. These are brand new spare parts in OEM quality –  the alternative to save you from buying a complete new SMG hydraulic unit.
The required release tool is also available by request.
The removal and installation is described in the following video:
This Repair Kit only works if the rest of the hydraulic unit is functional. The accumulator for example needs a defined preload pressure. Should this not be the case, the accumulator has to be replaced, too. In Burkhart Engineering's SMG-Wiki you can find instructions about how to check the preload pressure in the accumulator.