KPower E30 Swap Package
£4,550.00
KPower Industries' Honda K series swap package for the BMW E30 chassis is designed for competitors and enthusiasts who demand the highest quality engine swap components for their builds. 
Why is the K series engine platform so desirable for the E30 chassis? It's simple – it follows in the footsteps of the BMW M division by pairing the lightweight and nimble E30 chassis with a high revving four cylinder, like the original E30 M3, which dominated motorsports in its day. Later BMW engines can of course be made to fit the E30 chassis but a perfect modern alternative to the M3's S14 engine is the K series.
It is lighter than most BMW engines, high-revving, hugely tuneable (with massive aftermarket support) and thanks to KPower's swap components, a very straightforward engine swap. For a detailed breakdown of KPower's E30 swap package, as well as a thorough write-up of every component included, check out their blog post here.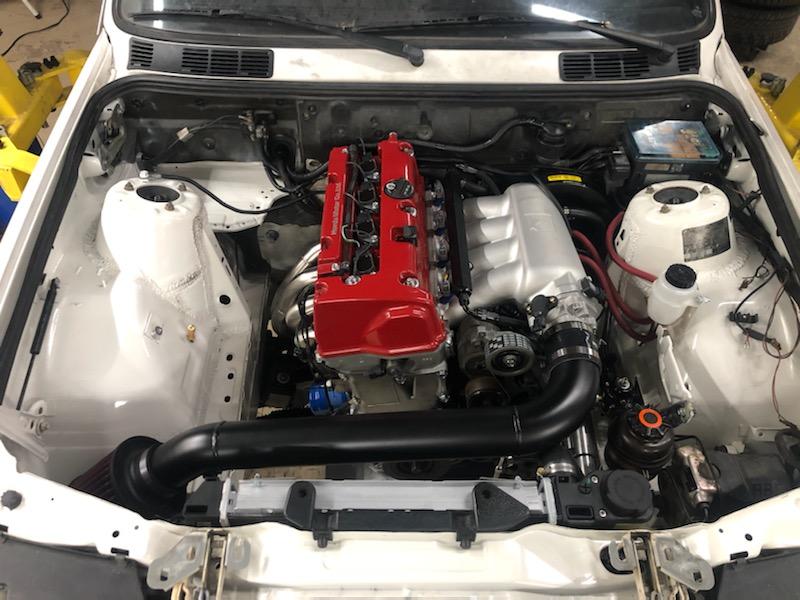 This swap package includes:
K to Getrag 260 or K to E36/E46 transmission adapter plate
K to BMW 5-speed aluminium flywheel
Custom extended Tilton release bearing
3/16" laser cut steel engine mount arms
AKG Motorsport polyurethane engine mount pads
Aluminium E30-specific front sump baffled oil pan
Machined aluminium K20 oil pump adapter
⅞" steel pickup tube
KPower cast RWD intake manifold with all hardware
74mm throttle body with E30-specific throttle cable wheel
Remote brake/clutch fluid reservoir kit with N15 Design bracket
Plug and play K to E30 wiring conversion harness
Plug and play motorsports grade C101 sub-harness
E30-specific upper coolant neck with E30 temperature sender port
All new hardware for oil pan, manifold, engine mounts, and more
Flywheel dust shield
Detailed installation instructions (available for download here)
A K20 oil pump is required to run this oil pan. E36/E46/Z3 steering rack also recommended for additional oil plan clearance, but not required. This swap is compatible with both left and right hand drive vehicles.
Note – these engine mounts fit the following engine blocks: K24A2, K24A3, K24A4, K24A8, K20Z3 and the JDM K24A. They do NOT fit K20A2, K20Z1, or K24A1 blocks due to incompatible bolt hole locations on the left side of the block. Please make sure you source the correct block for your project.