Radium Engineering Oil Catch Can (E8X/E9X 135i/335i N54)
£279.00 – £319.00
Radium Engineering's oil catch can setup for the N54-engined 135i and 335i.  Reducing oil vapours in the intake of these engines is critical for maintaining port cleanliness and efficient running.
Unlike most catch can systems, Radium's setup does not vent to atmosphere and so is track legal and great for cleaner running. The supplied bracket mounts to the OE power steering reservoir, and Radium's N54-specific hose fitting means that the kit clips directly into the OE breather hose. Plug and play.
Installation instructions can be found here.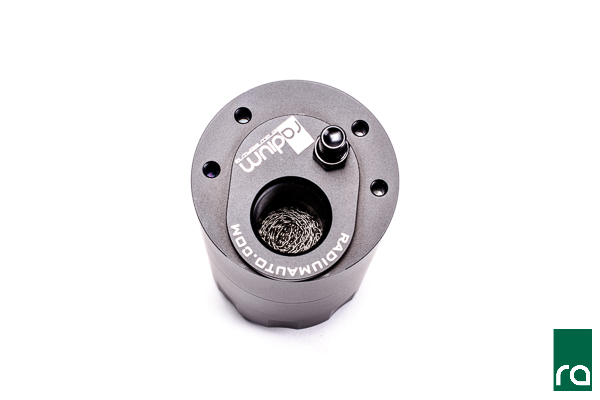 Includes:
-Aluminium oil catch can with integrated dipstick
-Aluminium laser cut BMW specific mounting bracket
-Aluminium 10AN BMW specific PCV adapter fittings
-Aluminium 10AN hose ends and adapter fittings
-Enough 10AN PCV hose to work with modified vehicles
-Stainless Mounting hardware

Features:
-Effectively raises the octane and increased engine performance from cleaner inlet air
-Prevents oil buildup in the intake or intercooler system walls, throttle body, intake manifold, etc.
-Excessive oil collection can be an indicator of a damaged engine.
-Lowers hydrocarbon emissions
-Capacity: 6 fluid ounces
-Height (without fittings): 5 inches
-Outside Diameter: 2.45 inches
The stainless steel filtration media is cleanable and reuseable. Optionally available is the drain petcock kit for easy draining of the catch can.