For Sale: Tom's 720bhp E92 M3
Ben Koflach
Many M3s come through our workshops for extensive work, and Tom's Santorini Blue E92 M3 is one of our biggest builds to date.
We began with the engine, tearing it down to a bare block to begin work. It was bored to 92.5mm to accept oversized 10.0:1 Mahle Motorsport pistons and then built with VAC Motorsports bearings and a polished crankshaft, as well as Carrillo connecting rods – all machined blueprinted to perfection. Check out the specifications below to see how many upgrades this engine had during the build. This was fitted to the car in combination with Tom's existing G-Power supercharger kit, but uprated to the larger ASA T1-724 compressor and with Snow Performance digital water/methanol injection added. Being us, we meticulously went through this entire setup, improving and perfecting it wherever possible from the methanol reservoir mounts to the wiring.
The engine was also treated to a two-piece CSF Radiators package to keep temperatures in-check, and Tom's existing Thorney Motorsport exhaust setup was retained. We added an AK Motion Data Display for monitoring engine vitals, and also re-worked the rear axle for to improve handling and traction.
Full specifications can be found below. This M3 has barely had any use since completion, hence sale. Tom's asking price is £52,995. Contact us for more information, and to be put in touch with the seller.
2013 M3 Coupe Competition Pack, limited edition specification in Santorini Blue
Blue stitching throughout
HK audio
Adaptive headlights
EDC suspension
53,500 miles
MOT until August 2022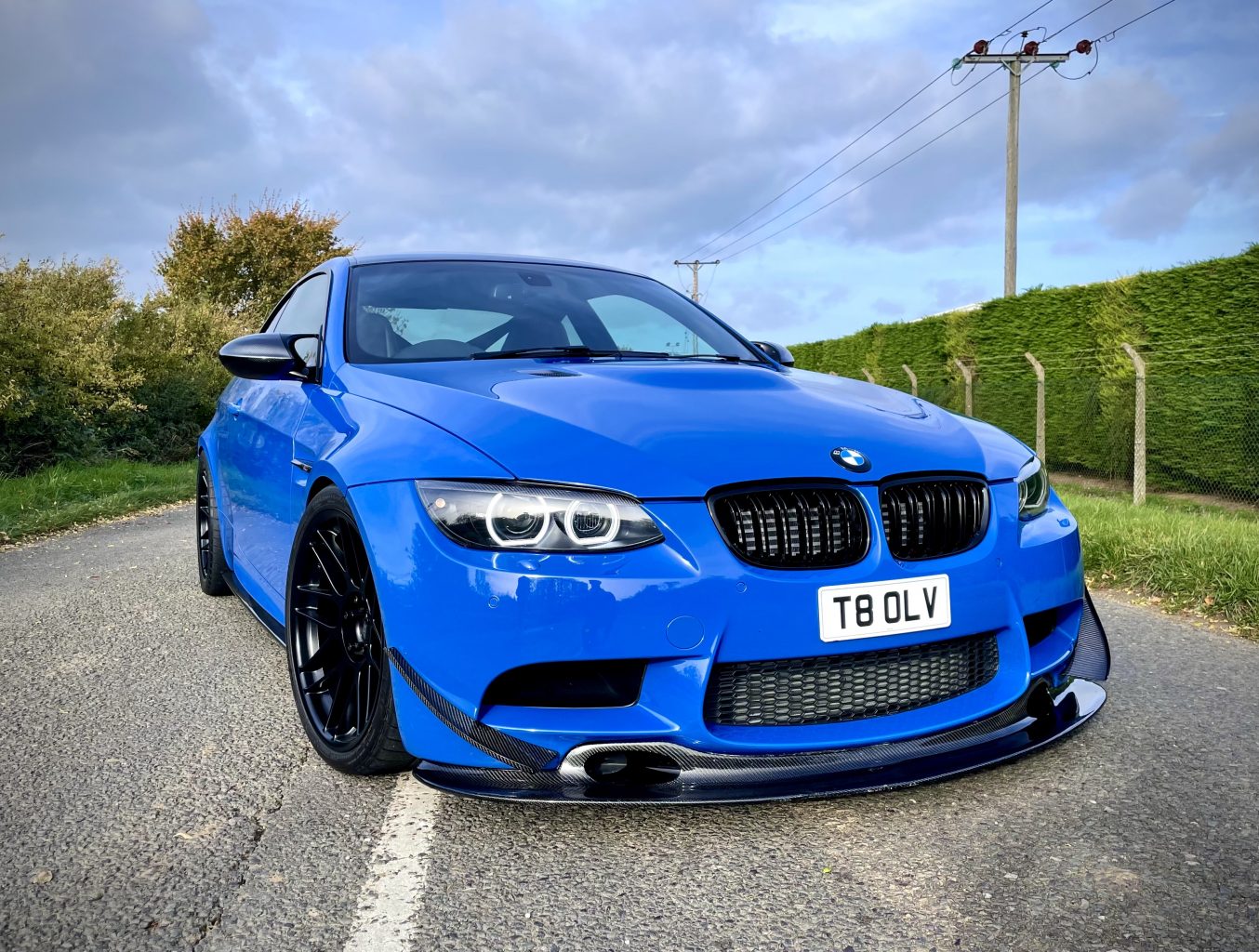 Engine
Stock S65 block, bored to 92.5mm and alusil-honed
VAC Motorsports main bearings
VAC Motorsports big end bearings
Polished crankshaft
Carrillo H-beam connecting rods with CARR bolts
New, Genuine BMW seals/gaskets/chains/guides/fasteners throughout
Rebuild.org throttle actuators
New idle control valve
New intake boots with high-torque clamps
Thorney Motorsport full exhaust system with lightweight FIA-approved 100-cell race cats
Induction/Fuelling
G-Power/ASA SK3 RS Supercharger Kit with ASA T1-724 Compressor (running at 0.8 bar of boost)
Modified BOV system to use twin Forge Motorsport atmospheric dump valves
G-Power secondary fuel pump with revised wiring loom
Snow Performance water/methanol injection – digitally adjustable with 16L tank
G-Power engine and DCT software
Chassis/Suspension
Completely overhauled rear subframe – blasted and powdercoated
Powerflex differential bushes
Revshift billet trailing arms
Powerflex bushes throughout suspension, and renewed balljoints
OEM EDC shocks with H&R lowering springs
Performance-orientated geometry setup
Wheels/Tyres/Brakes
Apex ARC-8 wheels, 19×10″ front and 19×10.5″ rear
Michelin Pilot Sport Cup 2 tyres, 265/30/19 front and 295/30/19 rear
Wheel stud kit
Goodridge braided brake hoses
Pagid RS29 brake pads
Castrol SRF brake fluid
Interior
Recaro Sportster CS front seats with BMW Performance seat mounts/rails
Mumbray Motorsport bolt-in half cage
Rear seat delete in black alcantara
Black alcantara trimmed steering wheel with blue oversteer marker
GTS black alcantara armrest delete
B&O audio software upgrade
Deadweight Industries lightweight lithium battery
Exterior
Carbon fibre GT4 front splitter
Carbon fibre side extensions
Carbon fibre GT4 rear diffuser
Carbon fibre GT4 canards
Carbon fibre mirror caps
Carbon fibre Amuse Ericsson ducktail bootlid
Mumbray Motorsport aluminium undertray
NED modified headlights with LED halos and matt black internals
F80-style double slat front grilles
Paintwork detailed and ceramic coated
Please note that Hack Engineering Ltd is not affiliated or associated with this vehicle sale, and simply advertising on behalf of the customer.